What Is TRT (Testosterone Replacement Therapy)?
At Spartan Medical Associates we don't treat the numbers, we treat you as an individual.
Testosterone replacement therapy (TRT) is a hormone replacement therapy for men and women.
TRT is used to treat both primary and secondary hypogonadism. Hypogonadism is a condition in which the male body doesn't produce enough testosterone on its own. Testosterone plays a crucial role in the development of the male and functioning of the body's systems. Low testosterone levels can happen at any age and can affect the mental, physical, and emotional state. Different ages that it affects will have various symptoms. In adulthood, men can experience:
Erectile dysfunction
Fatigue
Emotional distress
Lower sex drive (low libido)
Difficulty concentrating
Hot flashes
Infertility
Loss of bone mass
Loss of muscle mass
 If you experience any of these low testosterone symptoms, call Spartan Medical Center today at 704-469-5613.
What Are The Symptoms Of Low Testosterone
Some signs of low testosterone are hair loss, fatigue, low sex drive, loss of muscle mass, and increased body fat. These symptoms are common in both primary and secondary hypogonadism patients. Emotional changes can come from this as well. Some men cannot perform sexually or may have low sperm count. Sexual performance can be frustrating for both the male and partner and treatment may help restore sexual function. 
There are two types of hypogonadism (low testosterone). Primary hypogonadism is considered a testicular failure because the problem originates in the testicles. While secondary hypogonadism is a problem with the pituitary gland, this gland is a part of the brain that tells the testes to produce hormones. Secondary hypogonadism can lead to many other complex issues as well since the pituitary gland is responsible for the signaling of many other hormones found in the human body.
How Is Low Testosterone Treated?
When the patient has primary hypogonadism, it is a problem with the testicles. This diagnosis is much simpler to treat, and often has a great response to the TRT. Our doctors will do some blood-work to determine what your testosterone levels are and then work to get them within normal range using TRT. 
Testosterone treatments include:
Injection
Compounded cream
Primary Hypogonadism
Most men respond to TRT treatment for primary hypogonadism very well. The loss of muscle mass, sperm count, sex drive, and erectile disfunction all seem to improve after treatment. A sense of normalcy will start to settle in. The patient will become more active and feel much better in their own body. Not only does this treat the symptoms of hypogonadism but also the emotional strain that it takes on a patient from having low testosterone. Once the patient starts to function as normal, he will feel much better emotionally as well.  
Secondary Hypogonadism
Secondary hypogonadism, however, does respond to TRT treatment, but it's not always as easy as primary patients. The doctor will have to further test and decide what works best for each patient. The pituitary gland is responsible for the body's production of various hormones, and when there is something wrong there, it can have adverse effects on the entire body. However, testosterone replacement therapy can help secondary hypogonadism patients as well. 
Testosterone Treatments Therapy For Aging
Starting in our late 30s, our hormone levels begin to decline and by our 40s-50s we are frankly deficient of hormones and our bodies are not able to function on a cellular level as they should. Depicted graphically below.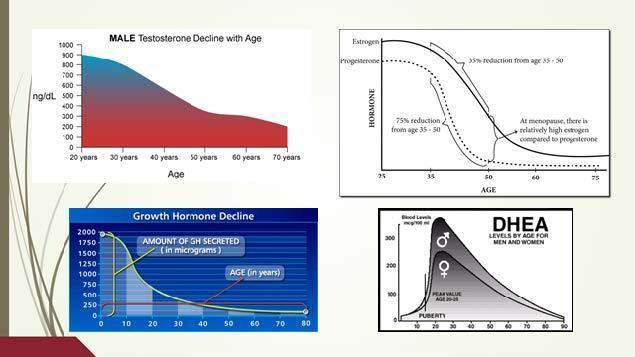 These hormone deficiencies cause major symptoms and in men the onset is slow and we typically write it off to getting older and push through our day.  Symptoms include fatigue, lack of energy, poor concentration, loss of muscle mass, increased body fat, erectile dysfunction, low libido, decreased bone density, osteoporosis, mood disorders, loss of strength and endurance. 
Not only do we feel old but we start to develop the diseases of aging, cardiovascular disease, degenerative joint disease, weight gain, risk of diabetes, etc.  These deficiencies are somewhat preventable and this allows us to live a better quality of life and increase our "health span" (healthy years of our lifespan).
Testosterone replacement therapy (TRT) is used for both aging men and women. As we age, our bodies start to not produce the level of hormones it once did. Aging is a natural occurrence; however, it also tends to make us not feel our personal best. As we age, we may start to experience fatigue and a loss of mental clarity and focus. Many people prefer to feel better and look at hormone replacement therapy as a solution. Hormone replacement therapy is a therapy that will replace or add to the hormones that your body is producing naturally to help offset the loss of production of these hormones from aging. Hormones such as testosterone are responsible for men to have a stronger stature and more defined muscle tone as well as a healthy sex drive. 
When men begin to see erectile dysfunction and other symptoms of aging, they begin to get depressed. This depression can be treated with depression medication, but often it's not what the man needs. He needs to have his testosterone checked and adjusted for optimal levels. Once the levels are increased, he will start to feel better and will not have the signs or symptoms that lower testosterone show.  
Testosterone Replacement For Women
Testosterone treatment therapy is not only for men but for women as well. Women have found treatment helps increase their sexual desire. Women also produce testosterone, just at a lower level than that of men. It is believed that testosterone helps aid in strengthening the bone and improve muscle strength. 
There are all kinds of hormones that are produced in the body. Our bodies have hormones as messages to the body on how to function. These hormones are essential to the everyday functions of the body. 
Finding The Right Hormone Balance
In the case where there is a pituitary gland issue, there are many hormones that need to be looked at and regulated in order for the person to feel normal. This may take some time and adjustments. But, having a little patience with your body and us is very helpful. Getting the right balance doesn't always happen quickly. However, we work with our patients closely and monitor how their bodies react to specific hormone treatments. We will then adjust these treatments as needed so that optimal results are achieved.  
If you are not feeling your very best, aging, or thinking that you need to have your hormones checked, and live in Charlotte or Huntersville, we'd love to hear from you. We work with testosterone replacement therapy, as well as many other hormone treatment plans. We work with our clients on an individual basis. Every person is different, and so are their treatment plans. Give Spartan Medical Associates a call at (704) 469-5613. Spartan Medical Associates can help treat your symptoms and get your body and hormone performing at optimal levels.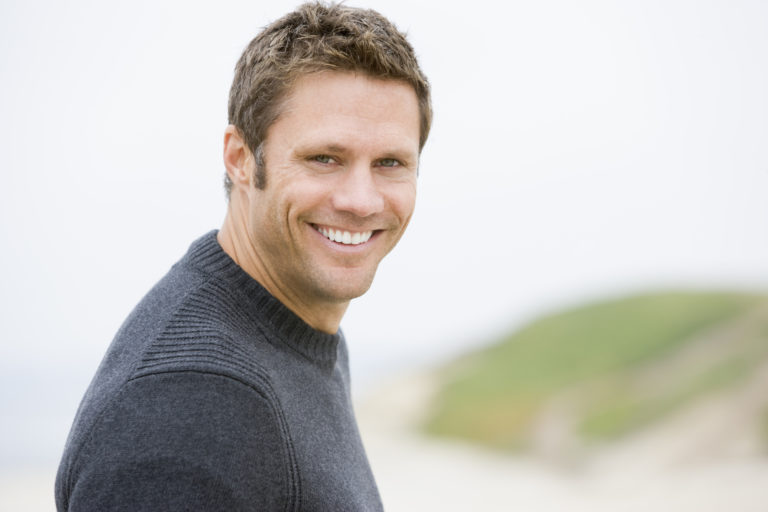 You deserve to know why it feels like you've lost your edge. Book a FREE consult to discuss your symptoms and possible treatments that are tailored to you.
Frequently Asked Questions About TRT
What is TRT?
TRT is a form of hormone therapy in which androgens, often testosterone, are replaced. TRT is often prescribed to counter the effects of male hypogonadism.
When Should I Start Testosterone Replacement Therapy?
Men should start TRT when their natural levels drop and they start experiencing symptoms and not rely on a certain age to start. Having a licensed physician oversee the process of starting TRT is recommended.
What Are The Symptoms of Low Testosterone?
Erectile dysfunction
Fatigue
Emotional distress
Lower sex drive (low libido)
Difficulty concentrating
Hot flashes
Infertility
Loss of bone mass
Loss of muscle mass
https://academic.oup.com/jcem/article/81/10/3578/2649928
https://eje.bioscientifica.com/view/journals/eje/154/6/1540899.xml
https://www.sciencedirect.com/science/article/abs/pii/S0165032797001687