Optimizing Female Hormones
Bioidentical Hormone Replacement Therapy from Spartan Medical Associates
I started at 211 lbs and as of today I weigh 181 lbs and feeling pretty good! Your program is great! I should be your poster child! Lol!!
Hi Dr. Miller, I was wondering if your program for females was in place yet? My wife is so impressed with my results that she wants to become a Spartan Medical patient asap. Once again I'd like to say thank you. The program you have me on has already been life changing. Have a good weekend. Best,
Happy New year to you too! Yeah I definitely have improvement in all the areas you mentioned. I'm down about 20lbs since I started your program. My energy levels are up, but not necessarily where I'd like it to be. Is that something that will continue to improve or is it something we can address with an increase in testosterone or DHEA? I'm sleeping better than I have in years. The other thing is I love fasting. It makes me feel like I've taken control of my eating habits. I am capable of easily going more than 20hrs. What are your thoughts on fasting that much on a daily basis? Thank you for helping me to feel better than I've felt in years. I look forward to a long and healthy relationship with you and Spartan Medical Associates.
Hi Dr Miller! I just wanted to check in with you and let you know how much better I have been feeling overall as of this week. I have been sleeping!! I have not had to use melatonin or CBD oil in four nights… That's the first time in a year!! In addition, my body hurts far less!!! I have been meeting with Angie doing Pilates twice a week. I do 30 minutes of my own thing on three other days. I also started Weight Watchers around the same time I started the medication and have lost a total of 7.5 pounds As of today. I feel like it is slowly coming off, which is the best way for me. All fruits, veggies and low-fat proteins are zero points on the plan. So, I feel like this is a way of eating I can always maintain. Otherwise I am doing SOOO much better!! Thank you!
Menopause and Perimenopause
All women experience a decline in hormone production that typically starts around age 40. While part of normal aging, a drop in estrogen and progesterone comes with many unwanted symptoms. Women also experience a decline in thyroid function and testosterone levels. All are important for optimal health.
Symptoms of Hormone Imbalance for Women
Take the Next Steps Toward Balance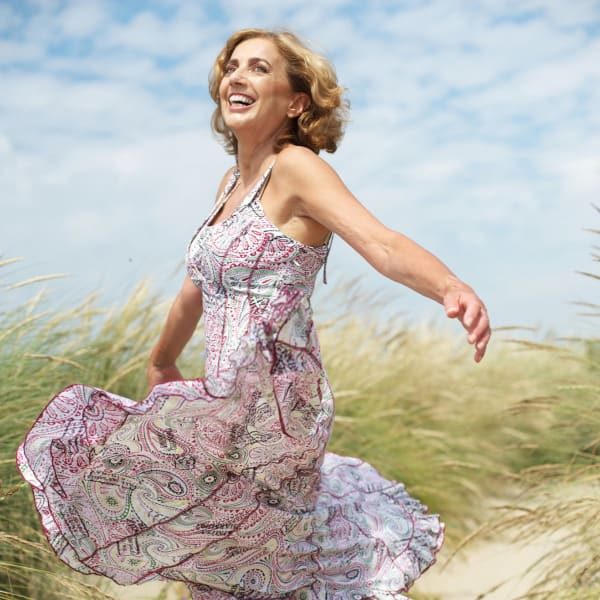 Women's Hormone Treatment
Find out the science behind why your body is changing.  Let our physicians explain the physiology behind perimenopause and menopause and what you can do about it. Schedule a FREE consult to discuss your symptoms and possible treatments that are tailored to you.
If you're interested in learning more about your symptoms or what hormones might be affecting you, please click one of the links below.